And so, our next destination would be the land-locked nation of Laos, situated right at the heart of South-East Asia. A surprising number of people that I talk to have never even heard of it, let alone knew it was a country worth visiting. This is all the more astounding when you consider that Laos is not some tiny back water. Laos is bigger than both Greece and Austria and has borders with 5 other nations, including China. One of the great things about the fact that it's flown so quietly under the radar though, is that it's not been as impacted by tourism as it's neighbours and offers up a window into what could be considered the "real" SE Asia.
First though we had to get there and both Laos and Thailand co-opt into making this as difficult a task as possible. From Chiang Rai, we had to get a bus for two hours north which dropped us off at a crossroads in the middle of nowhere. From here we hailed a tuk-tuk to take us the final 4km to the border. At the Thai side of the border we got our leaving stamps and then paid for a bus ticket to cross the bridge – you are not allowed to walk over the bridge.
Two minutes after boarding the bus, we arrived at the Lao side of the river and were herded toward a counter which would grant an entry visa, so long as we paid them 30 US Dollars, they won't take any other currency (even their own) it's dollars or nothing. Money exchanged, a grumpy-looking man took our passports and then went to have a cigarette and a plate of noodles. Only once all his noodles were finished could he come back to the desk and return our freshly stamped passports. We were finally in Laos. Phew!
Of course, the border crossing isn't actually near anything at all so we jumped into yet another tuk-tuk and headed for the small riverside town of Huay Xai.
You're instantly aware of the difference in terms of development between Thailand and Laos as you make your way around. It's much less westernised than many of it's neighbours and Huay Xai illustrates this point perfectly despite the number of backpackers that you see strolling around.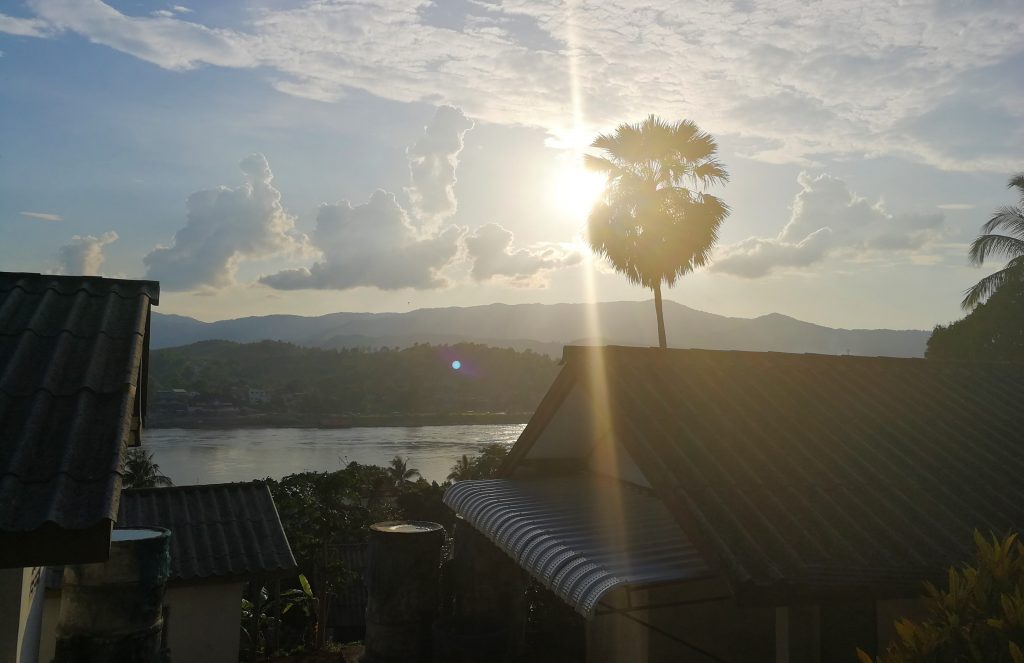 We weren't going to be here for long though, as were in Huay Xai for the same reason as nearly everybody else that goes there, to board the slow boat to Luang Prebang.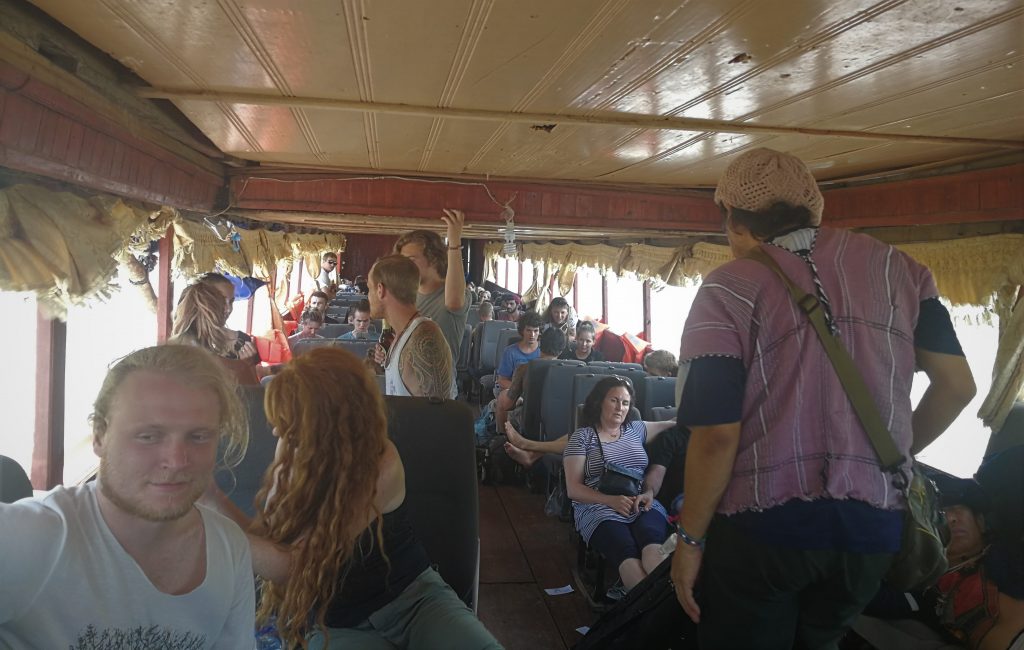 The slow boat does exactly what it says on the tin. It drifts slowly down the Mekong river over the course of two days, giving it's passengers the opportunity to take in the magnificent scenery on either side of one of the worlds great waterways.
It's overcrowded and it's not very comfortable (all the seats are old car seats, welded to the floor) but it is an experience. Sadly, our trip coincided with the boat companies attempt to break the world record for "Number of douch-bags on a single boat". Not only did we have the achingly clichéd 'Traveller who brought a guitar and insists on playing it' but one guy even had juggling clubs! Fucking juggling clubs! The only good thing about a backpacker who carries juggling clubs is that they come packaged with accessories that can be used to batter them to death.
Fortunately though, that wasn't enough to spoil views. Winding along the Mekong, you got to see some amazing scenery and also get a glimpse into the lives of some of the people who live on the river making the journey more than worthwhile.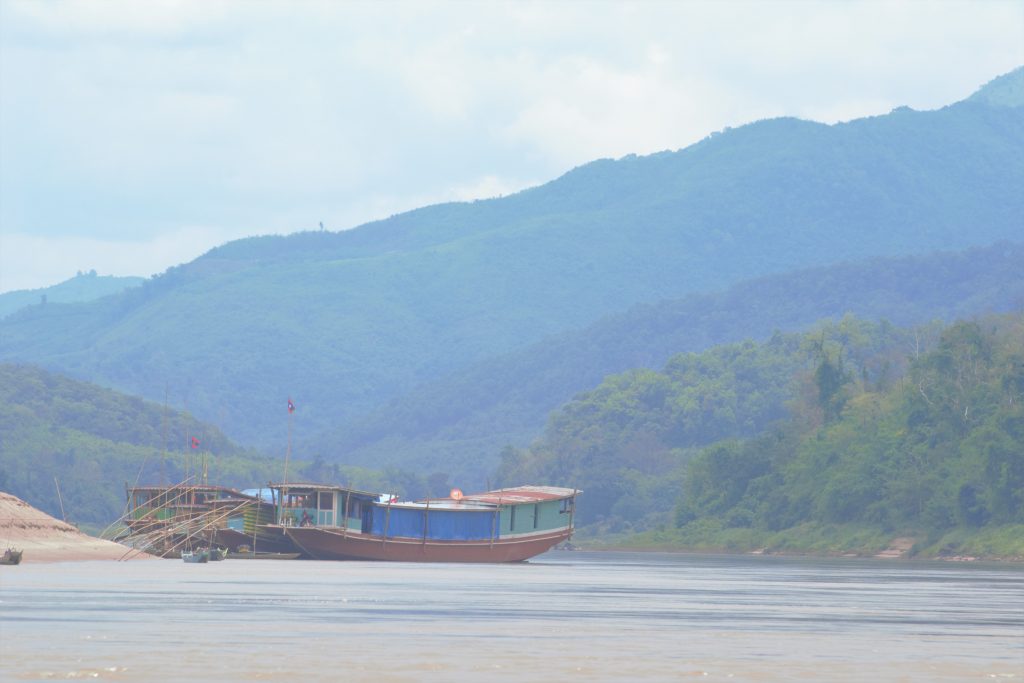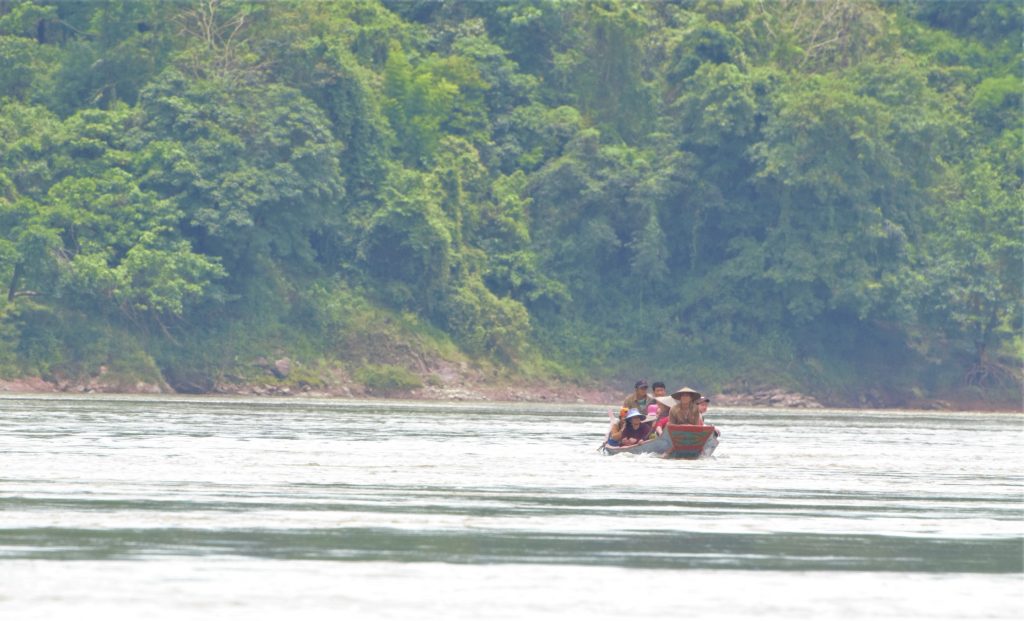 Eventually, after two long days on the boat and one night in the tiny rural village of Pakbeng, we chugged ponderously into Luang Prabang.
Luang Prabang is a small but interesting town chock full of temples, views and classically Asian architecture that has made it a UNESCO World Heritage site as well as a popular destination for tourists.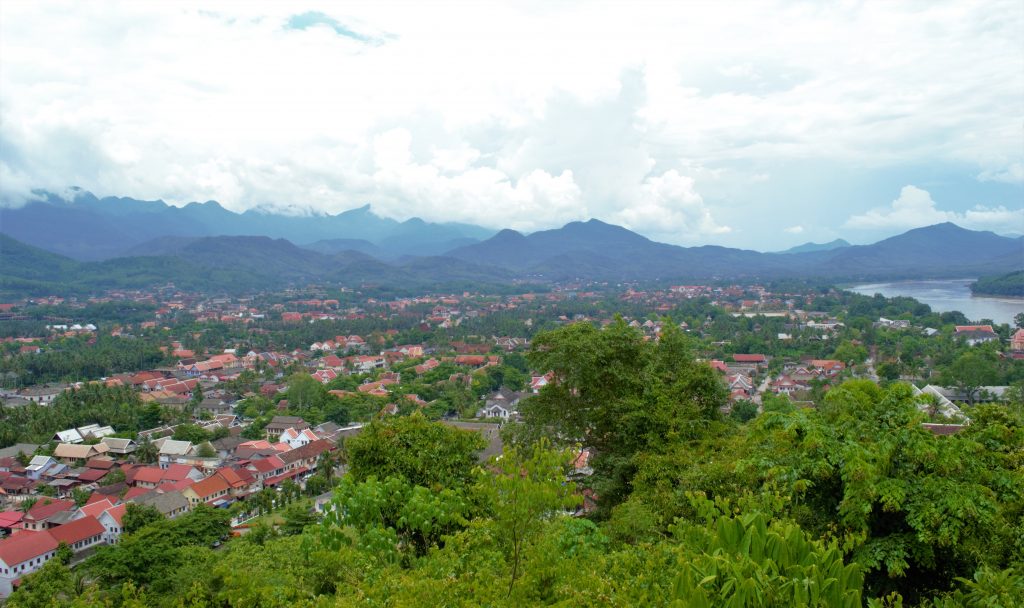 Another great reason to go to Luang Prabang (it's fun to say right?) is the Kuang Si waterfall which is just 30km away. You can take a tour there, but now that we're seasoned moped riders (for two weeks), that's nothing to the likes of us. So, we once again donned our helmets and set off for the falls.
Kuang Si falls, despite the huge number of waterfalls that we've seen so far, has to rank as one of our favourites. Beautiful clear waters, multi-levelled falls and the ability to swim all add up to make it a must visit location.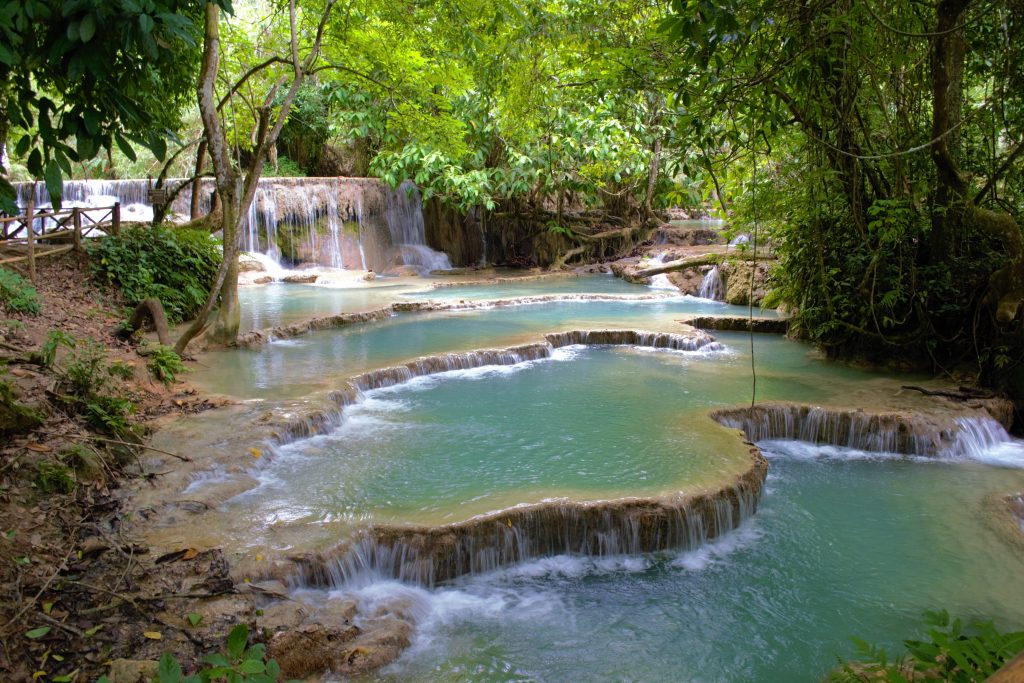 We spent a whole day touring the falls and the surrounding forest. We wanted to take it all in as the next day we would be off again, heading out on the night bus for the capital of Laos, Vientiane.
We'd never been on the night-time sleeper bus before (they would soon become like a second home) and were not entirely sure what to expect.
As it turns out, what we should have expected is to "lay" in a half-bed, half chair for what seems like an eternity, in a bus with disco lights being driven at break-neck speeds by angry and apparently blind men.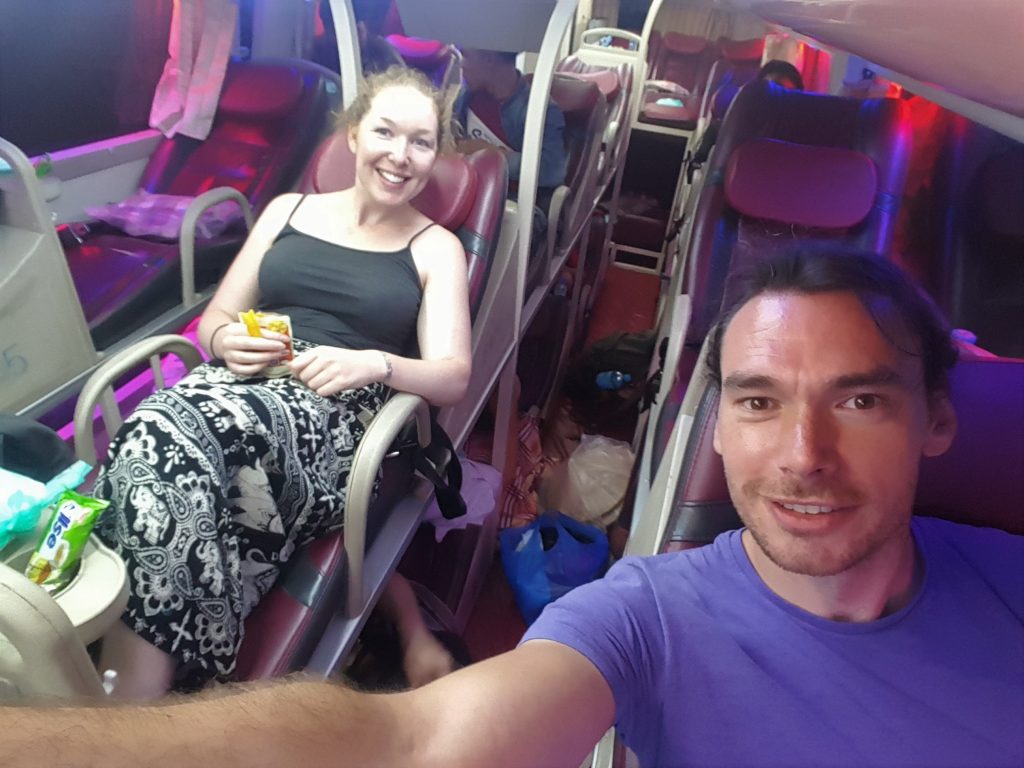 After a mere ten hours, we pulled into Vientiane Northern Bus Station at 5am and were soon in a tuk-tuk into the city itself. Our hostel mercifully granted us a ridiculously early check-in and we caught up on some sleep before exploring the city.
Vientiane has a heavy French influence that is hard to ignore. The riverside is packed with European style cafes interspersed with the more authentic restaurants selling local food at very low prices.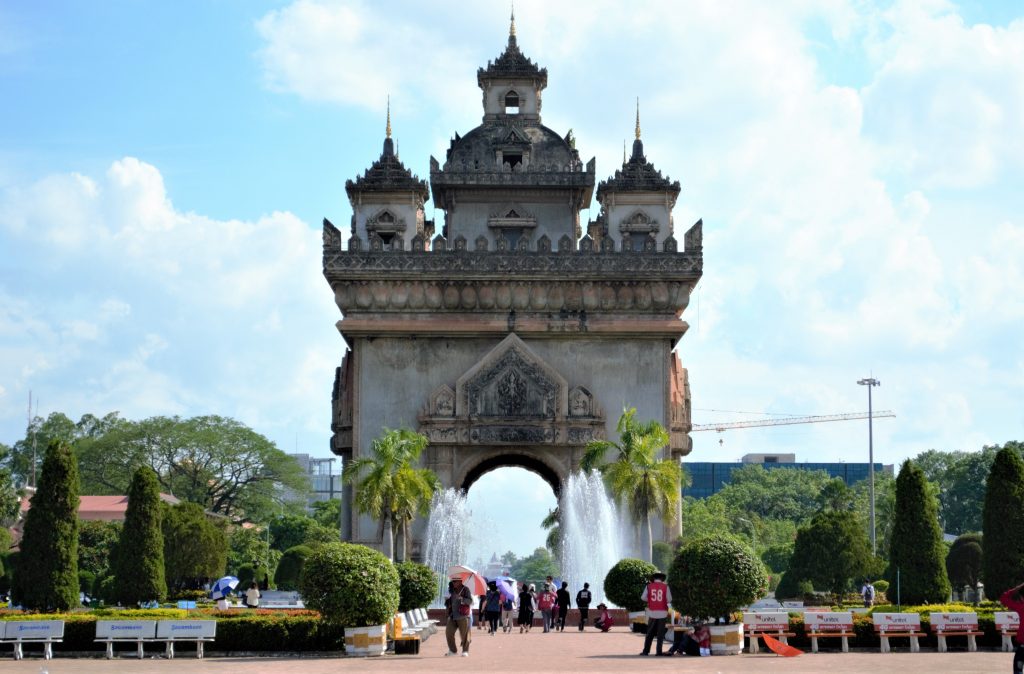 After a day in the city, we spent the evening at the edge of the Mekong, strolling along the promenade and taking in the sites of the cities vast night market.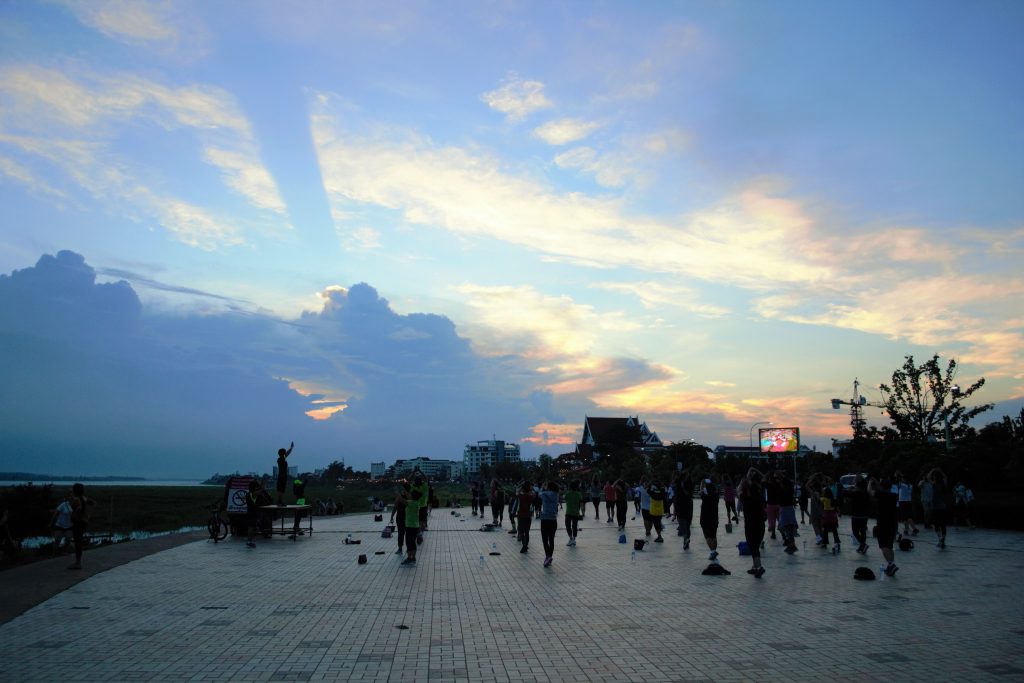 As we were walking, we were approached by a group of young Lao girls who wanted to record an interview with Cath. Obviously Cath obliged and after a few questions about what we were doing there and where we were from, the interview ended and they asked for a photo with her.
Bear in mind that at this point we've been travelling for 6 weeks and Cath is priding herself on, and I quote, "…being the most tanned she's ever been". The girls, excited by her willingness then proceed to tell her that they chose her to interview as she "…is very beautiful and has very pale, white skin". This deflated the tanned skin bubble for a few days but still, quite the compliment.
15 minutes of fame over, we retired to bed to get ready for our last day in Laos. We decided that our final day would entail a trip to the famous Buddha Park on the outskirts of the city. After a bumpy ride on the local bus we arrived and were pleasantly surprised with what we found.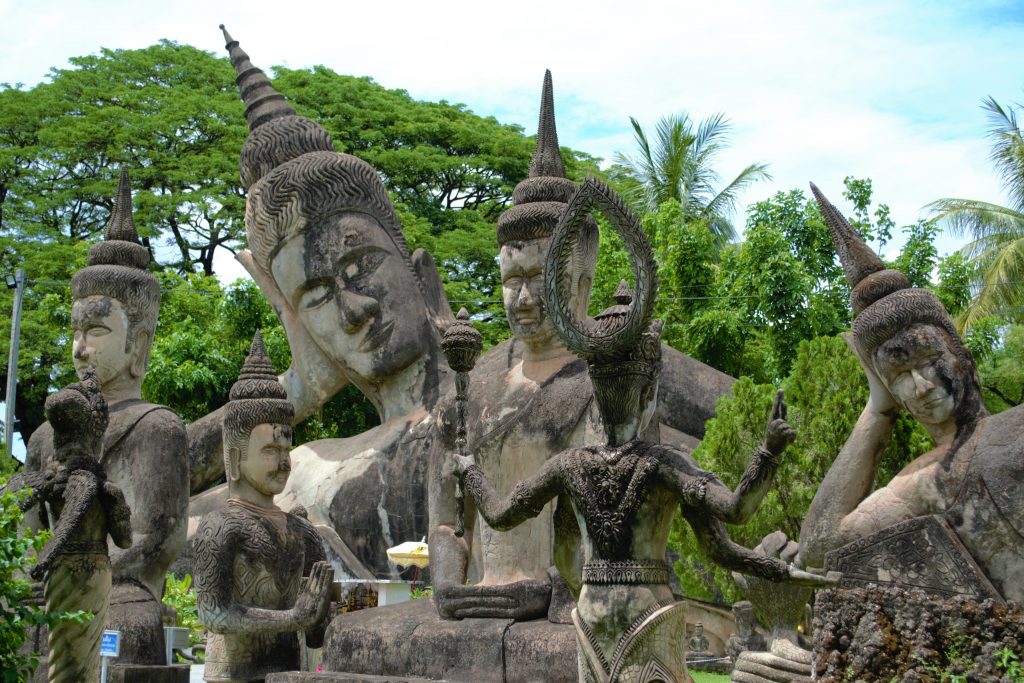 We toured around in the blazing sunshine, surrounded by a huge number of colourful butterflies, taking in the intricate sculptures as we went. It was a fitting way to say goodbye to a fantastic country.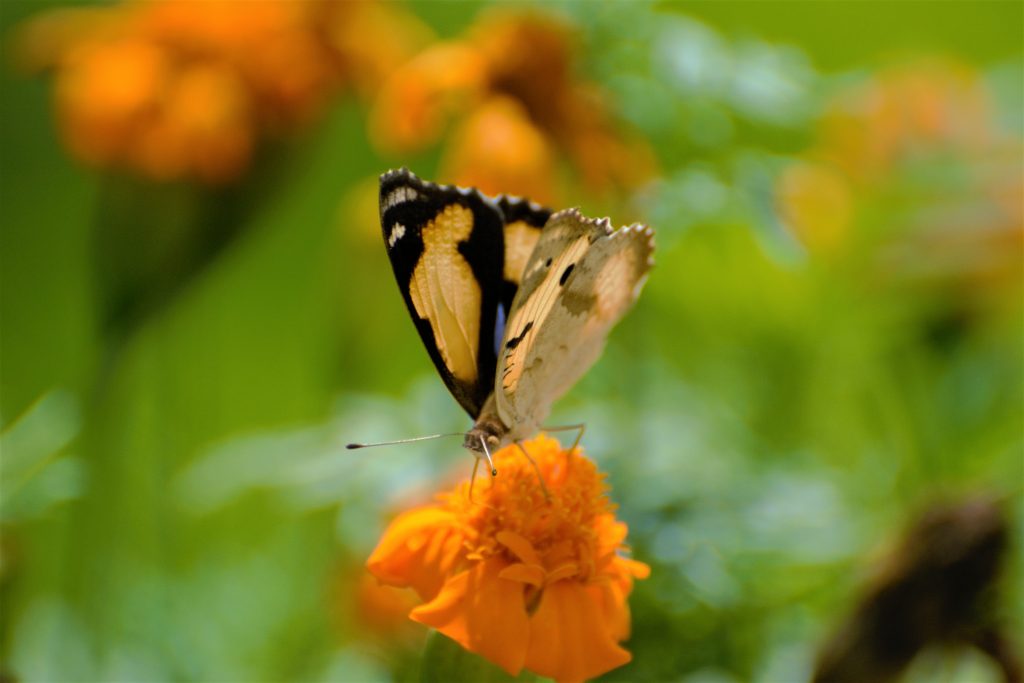 That evening we would once again become acquainted with our old friend, the sleeper bus. This time though it was for an epic 24 hour journey to the Vietnamese capital of Hanoi. It proved to be an ordeal in all manner of ways, but that will have to wait for next time.
If you've missed out on any of our previous posts, you can visit the homepage, or have a look at our last post here.