If you missed our trip to Central Thailand, you can see what we got up to here.
It was time to head even further North to Chiang Mai's weirdly similarly named sister town of Chiang Rai. Bidding farewell to our host Allen, we hailed a Grab (Asia's version of Uber) and were soon sat in the bus station waiting for our journey to begin.Arriving early, we got comfortable in the seating area of the bus station and awaited our departure. Having been warned that our bus was running late and having skipped breakfast, we needed coffee and fast. I hopped round the corner and found a small café in which a woman and her baby stood ready to serve. Of course, the second I ordered the much needed caffeine, the baby suddenly burst forth with a teary scream, telling the woman that he needed changing. What followed was the most impressive (and disturbing) display of multi-tasking I have ever seen.
The woman simultaneously whipped up two coffees with one hand, while changing a dirty nappy with the other. Both the baby and I, waddled away fully satisfied. You don't see that in Starbucks do you?
Finally, the bus arrived and a few short hours later we were pulling into Chiang Rai. Being somewhat out of the way for those not venturing into Laos, Chiang Rai is a much quieter, more chilled out city than those we had visited previously. The bus station is right in the centre of town, but still feels calm despite the constant shouts of "Tuk-tuk" as you exit the bus.
Our hostel was only about a mile away so we decided to walk it. Crossing the asphalt, we were amazed at the welcoming nature of the locals as nearly everyone rushed forward shouting "Hello!" and waving their hands. We greeted them cheerfully and congratulated ourselves on the good impression we were making when suddenly we realised that we were strolling directly across an area that was being painted. Leaving smudged lines and wet, yellow footprints as we went, it dawned on us that the shouts were not of greeting but of angry consternation as two moronic foreigners ruined their mornings work. Still, two minutes and we had already left our mark on Chiang Rai.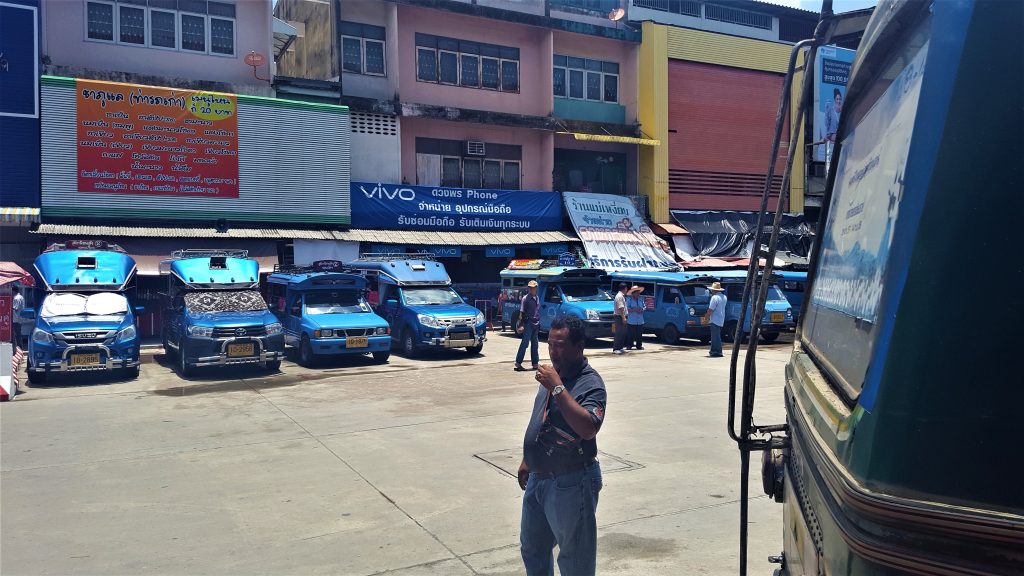 We made it to our hostel without further calamity and embarked on a mission to find food. Walking down the road we happened upon the perfect place – it was a bar/restaurant/barbers/tattoo parlour. If they did all of this under one roof, how could we go wrong. Content with using just two of their services, we left to get showered and ready ourselves for a night of getting to know the place.
The first major sight that we encountered was the town's ornate and very gold, "clock-tower". Less of a tower, this famous landmark is essentially just the most elaborately decorated roundabout that you're ever likely to see.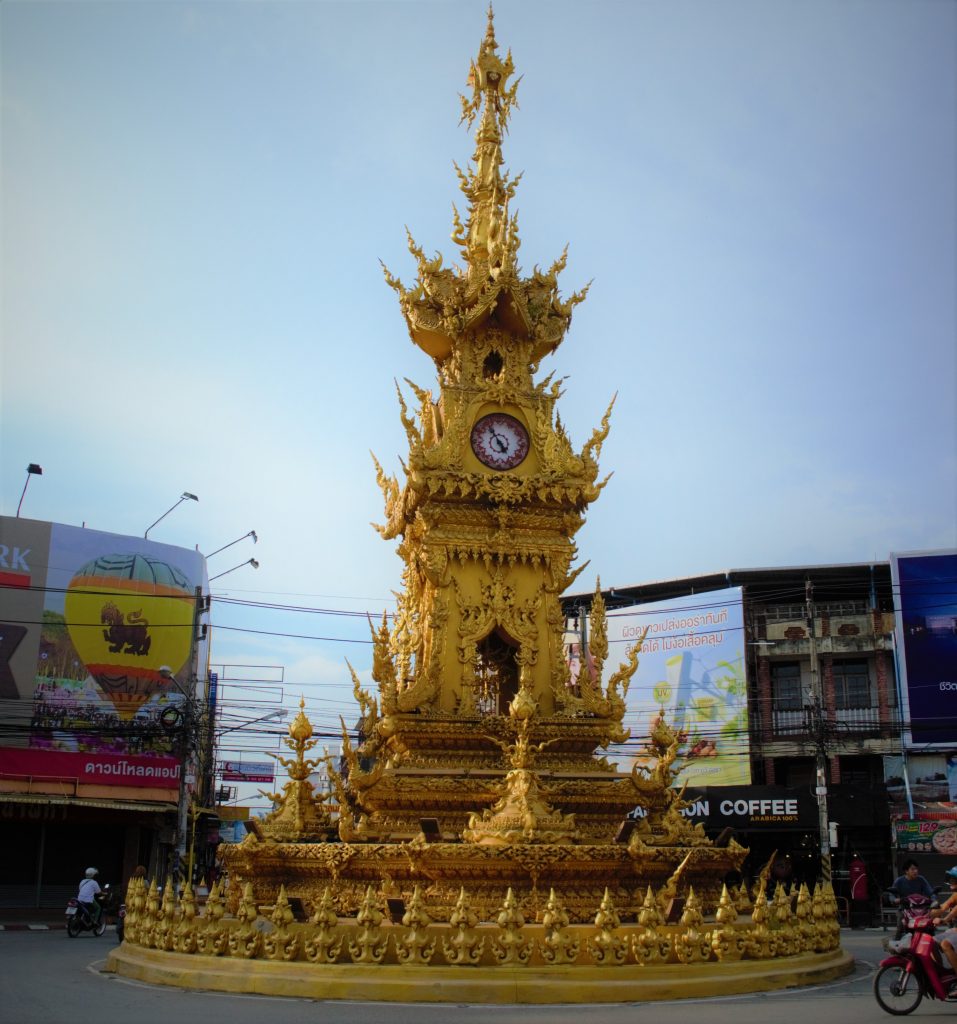 So proud is the town of it's clock-roundabout, that every night at 7, 8 and 9 pm they light it up with multi coloured lights and play music in what must be the most distracting traffic calming measure of all time.
Confused, we wandered off to the other end of town to take a look at the Sunday night walking market. Not content with the nightly and accurately named – Night market, the town shuts down a whole street every Sunday for a glorious celebration of tat that stretches on for at least a mile. Having surveyed the stalls for anything of value, we stumbled across the beating heart of the market. A large square in front of one of the towns impressive temples had been given over to a stage where musicians played in front of a large dance area which itself was surrounded by food and drink stalls.
We could scarcely believe our eyes as hundreds of locals were all engaged in some sort of mass Thai line-dance. Literally everybody knew the moves despite each song having it's own set of complicated movements and step
We grabbed a drink and spent the rest of the night staring in awe at the perfectly orchestrated sea of bodies in front of us.
The next day we would, once again, jump onto a rented moped and head out of the city to take in some of the areas more beautiful sights.
First stop was the amazing White Temple located about 14 km to the south of the city. This unbelievable structure is by far the newest of the temples that we'd seen and without a doubt the most visually arresting.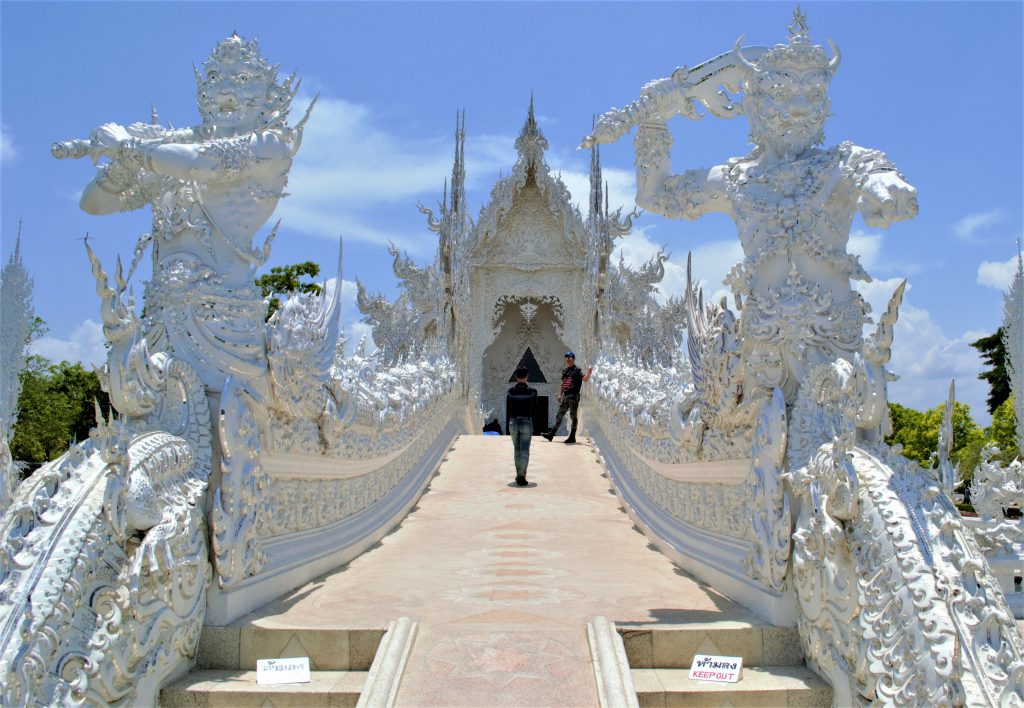 As well as being blindingly white in colour, some of the architecture is mind-blowing and the level of thought that has gone into its design is striking as you notice the little details as you make your way around.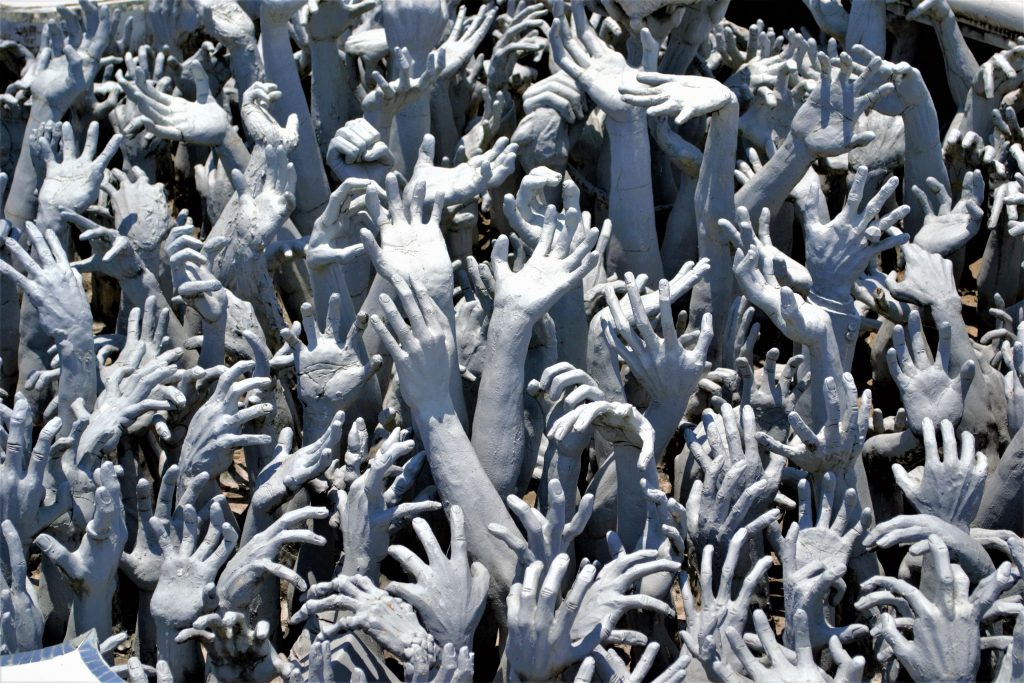 You're not allowed to take photos inside which is a shame as the murals inside are just as interesting. Featuring modern depictions of celebrities like Michael Jackson and world events such as 9/11 interspersed with demons, it creates a damning indictment of current society.
Suitably gobsmacked, we remounted the bike and hit the road for… you guessed it… another waterfall.
This one was a bit trickier to get to in that it involved a 20km ride followed by a mile long hike through dense jungle.
After a lung-busting climb up muddy pathways you finally emerge into a clearing that looks down upon the Khun Khorn Waterfall.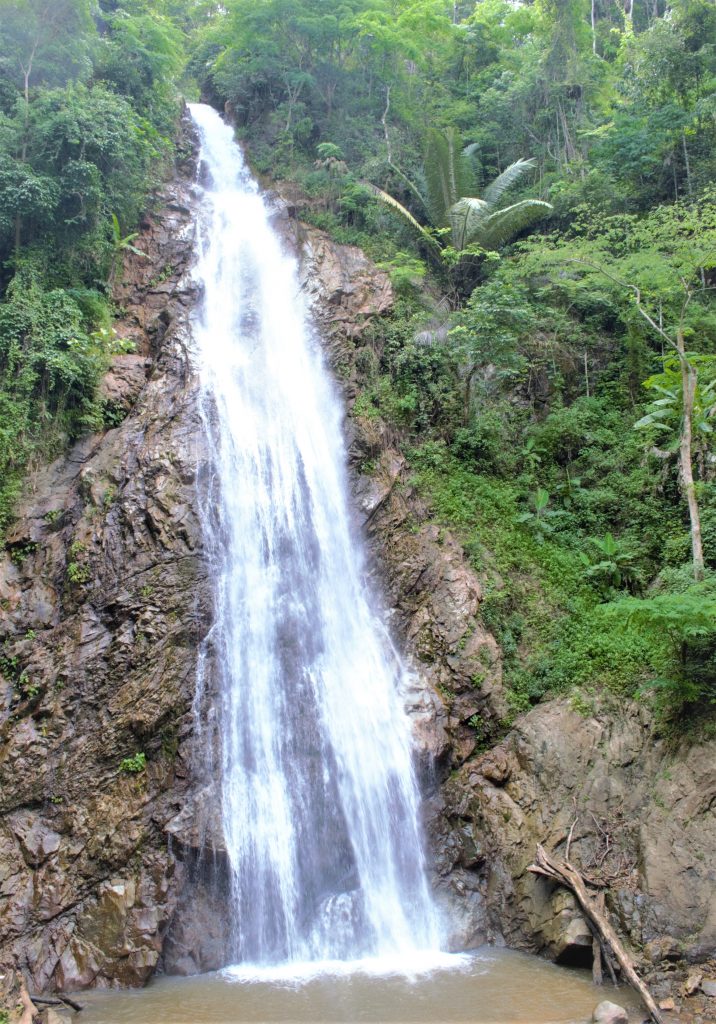 Descending a slippery slope down to the waters edge, we were soon in our swimsuits and jumping into the cool waters at the foot of the falls. We tried getting near the body of the falls but the water is falling with such force that once you're within a couple of metres, the intense spray strikes you with such ferocity that you have no choice but to turn back.
We stayed and relaxed at the base of the falls for the next hour before drying off and starting back towards the bike.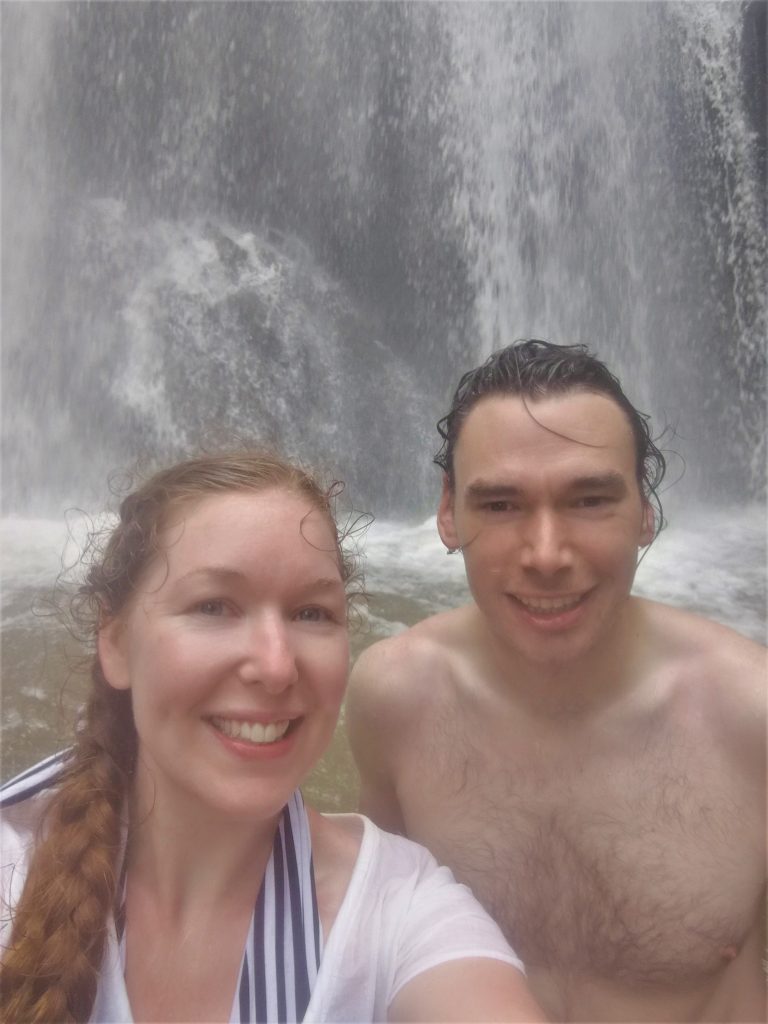 After a fairly hair-raising ride back through the city at rush hour, we finally made it back to the safety of the hostel.
The next day would see us back aboard another bus and on our way to Laos, probably the least well known of all the destinations on our list. Find out all about it and what we got up to whilst there in the next blog post coming very soon.