If you missed our trip to Bangkok, you can find the last blog post here.
The next day we woke up in plenty of time to get to the travel agency, where we would be picked up and taken to the bus stop for our journey to Ayutthaya. Due to our fragile state, however, we decided to stop for a cooked breakfast at a small bar just down the road from the hostel. This act delayed us to such an extent that we were soon sprinting down Khao San Road as fast as we could under the heavy burden of our backpacks. We arrived, panting, into the travel agents with a minute to spare and collapsed into the chairs inside. We needn't have bothered. All departure times in Thailand, we were to find out, are very much approximate.
The mini-bus finally pulled up a good half an hour later and took us about a quarter of a mile up the road, back to where we had just run through. Here it waited for an unfixed amount of time for some unknown event to occur. New passengers arrived (including the aforementioned Sam and Nicki, who must have thought we were stalking them by now), the driver smoked a pack of cigarettes and all the while, the clock ticked on. Eventually, the driver decided we had waited long enough and we set off… for another bus station in Bangkok. Everyone disembarked, we waited some more and eventually, we were all herded onto an indentical mini-bus for the onward journey to Ayutthaya.
This journey took little more than an hour so we were soon there and taking a tuk-tuk to our hostel for the evening, De Pumpkiin. After a quick bask in our air-conditioned room, it was time for a bit of exploration.
Ayutthaya, once the capital of the Kingdom of Siam before it was gutted by the invading Burmese, is awash with the ruins of the old city and it's many temples. It's impossible to travel even a few hundred metres without encountering some remnant of the city's golden age. It was to one of these relics that we ventured that evening, arriving just before closing and in time for the setting sun to bathe the place in pink light.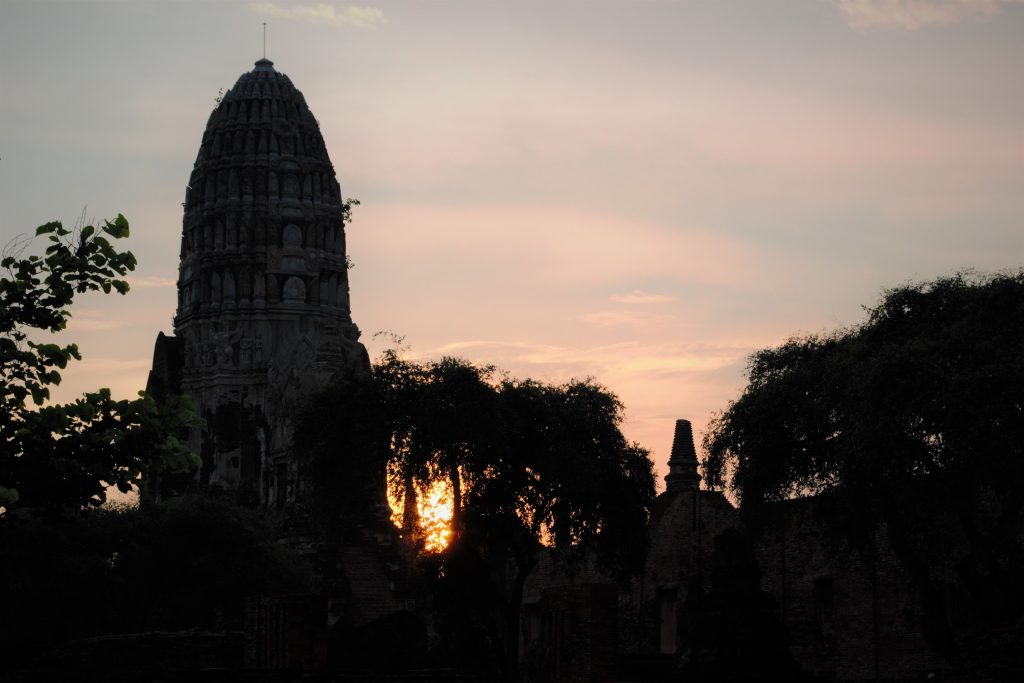 The next day, we rented bikes from the hostel and spent the remainder of the day touring around, taking in as many of these beautiful ruins as we could.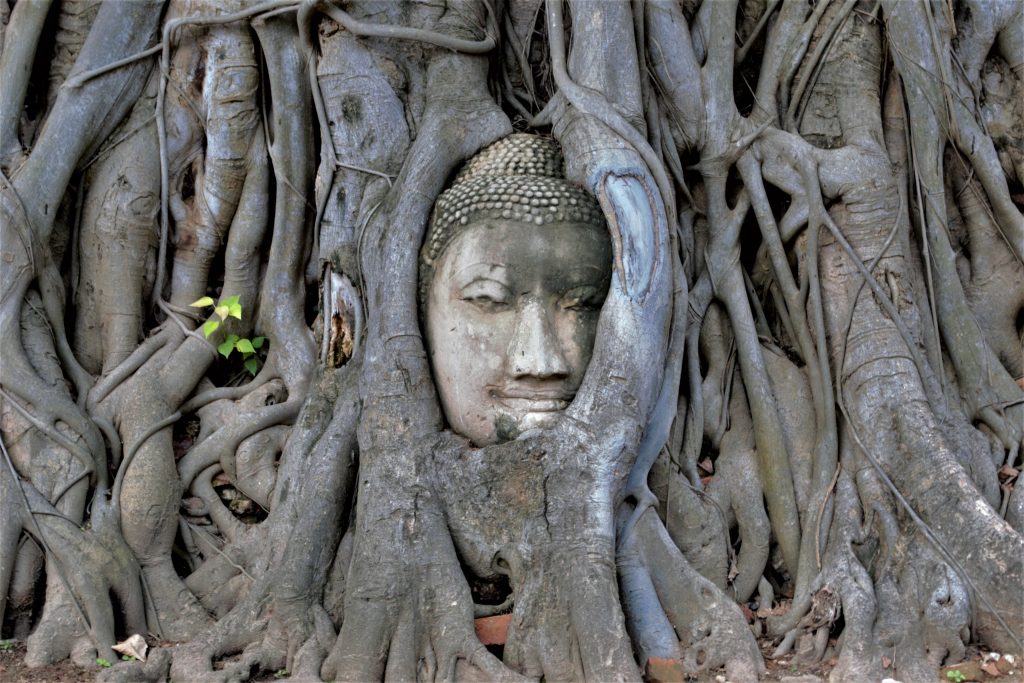 Sadly, we didn't have long to enjoy Ayutthaya as that night we were to board the 21:00 train to Chiang Mai in central Thailand. We had booked two berths in the 2nd Class Air-Conditioned Sleeper carriage and would spend the next 12 hours tucked up in our beds, hurtling through the Thai jungles. The Sleeper carriage is set up so that the seats fold down into a bed for the lower berth, while the upper berth consists of a small bed tucked into the space where you'd normally shove your bags. It's really cosy once you've pulled the curtain and the beds are relatively comfortable. It's safe to say that Cath enjoyed the experience as she's prone to sleeping on a train even in the absence of an actual bed.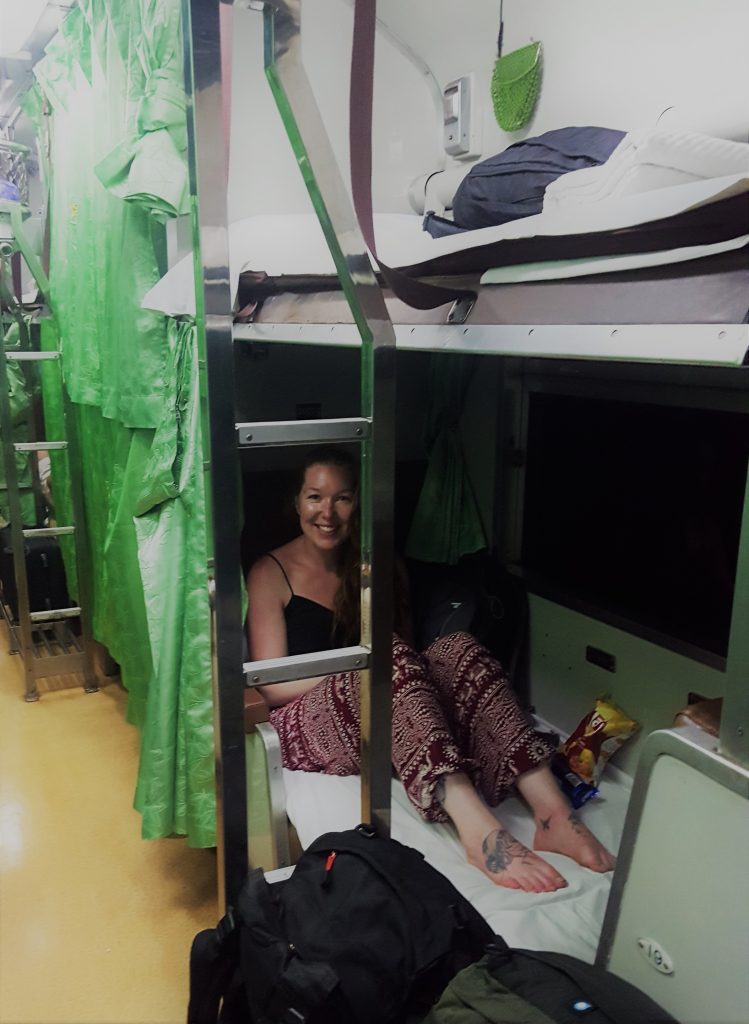 Well rested, we arrived the next morning in Chiang Mai ready to see what the town was about. Chiang Mai is a fairly large city in Northern Thailand, built around the moated walls of the old town at it's centre. It's got everything that the modern traveller needs but in a less hectic environment than Bangkok.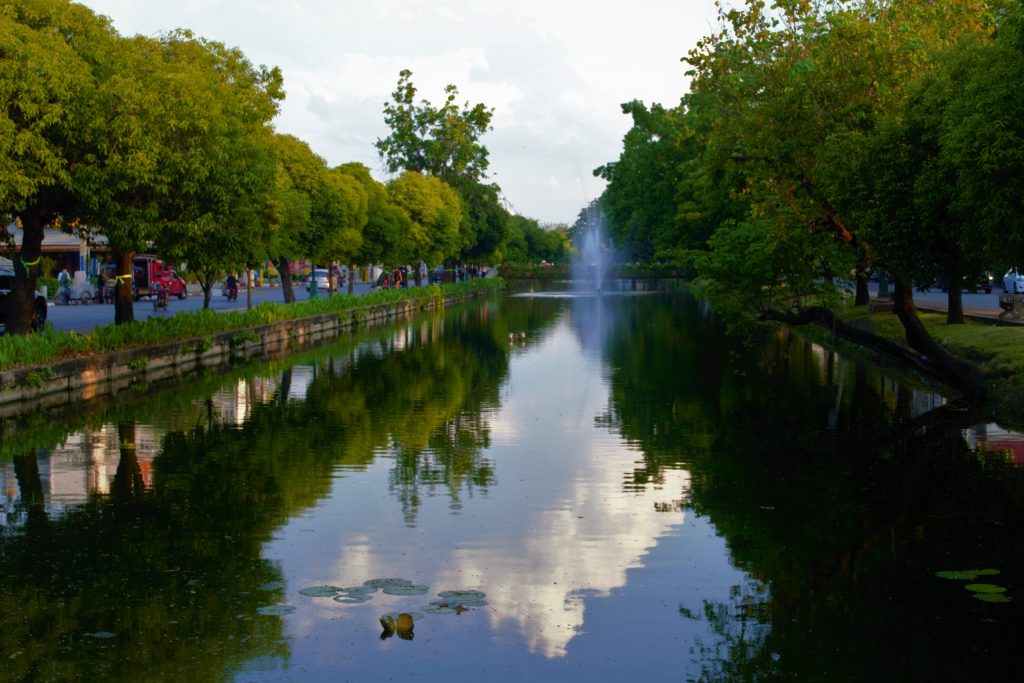 We soon set about planning our time here and booked up our first proper activity, a Thai cooking class. We chose to go with Siam Rice cooking school and we really enjoyed the experience. Yam, our teacher was so funny and really helped us to relax by giving us all nicknames, for the rest of the day we were to be known as Mr. and Mrs. Sexy!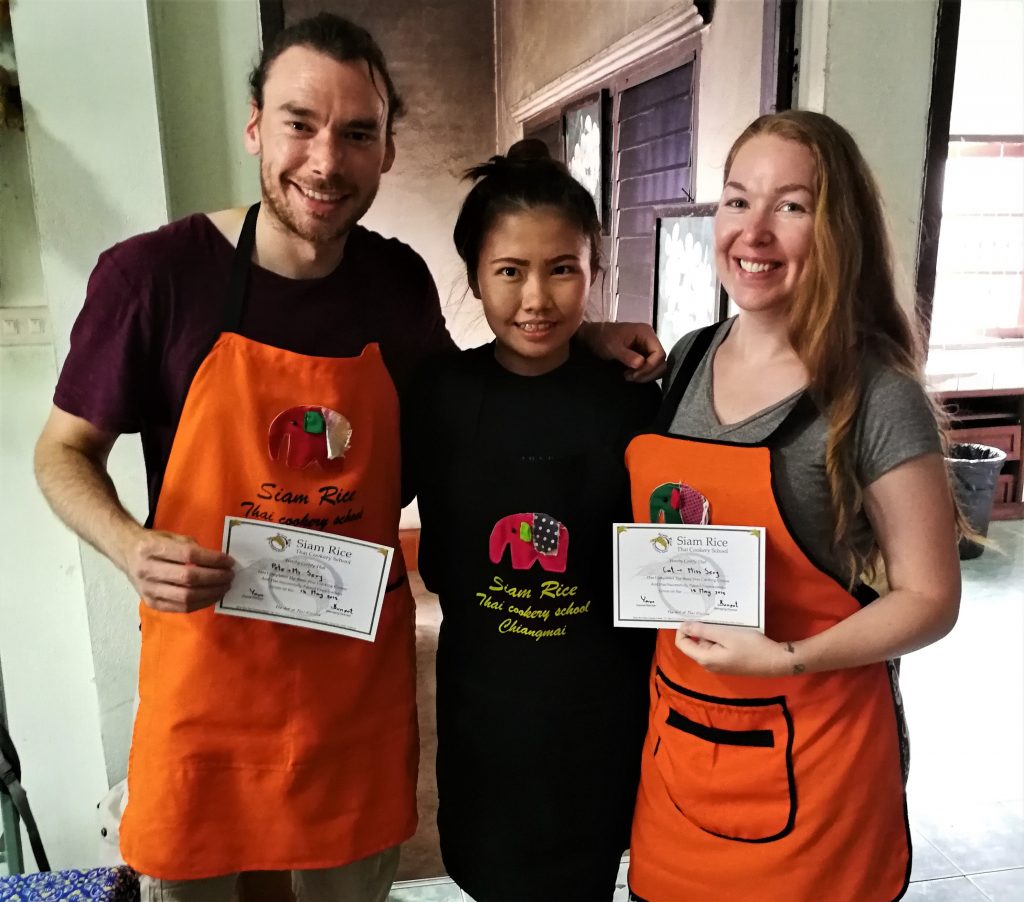 Emboldened by our ability to cook all day without serious injury, the next day we were even more adventurous. We rented a moped and headed into the hills around Chiang Mai. Cath hadn't been sold on this idea up to this point, despite my constant lobbying. To be fair, neither of us had ever ridden one before and my ability to fall over at even the slightest of provocations had not filled her with much confidence. The lure of a visit to a waterfall though, was too much for her to resist and we were soon donning our helmets and setting off. We wobbled away and around the first corner straight into the waiting arms of a police check point.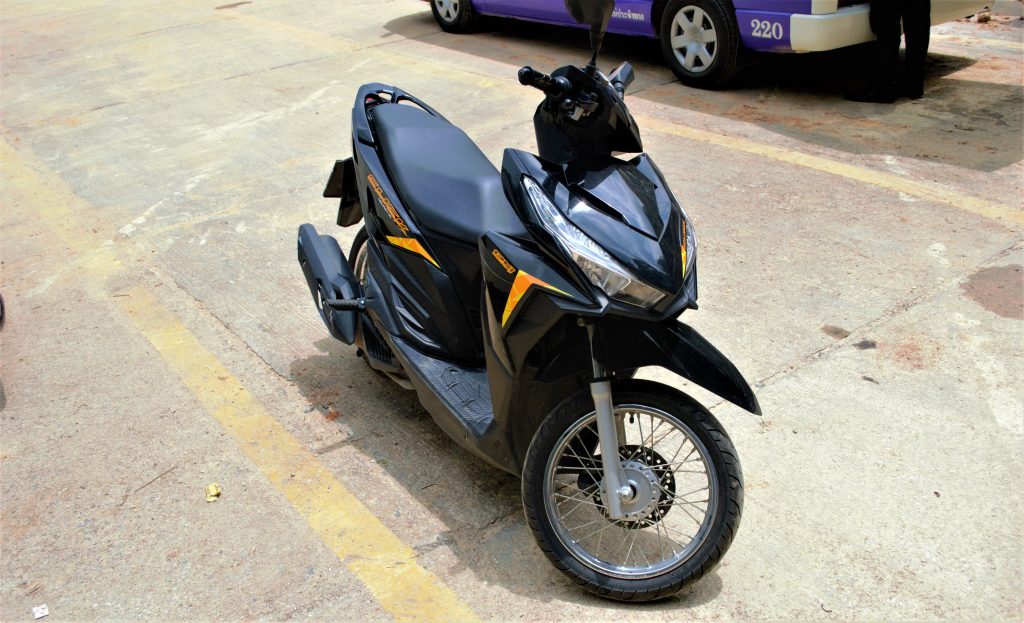 Strictly speaking, you need an international licence to ride a moped in Thailand, although this fact won't stop you renting one. Being so obviously foreign, we were instantly pulled over and told that we didn't have the right licence to ride. This wasn't too much of a problem however as, so long as we paid them 500 Baht, they would give us a pass to ride around, licence free for the next three days… Crazy.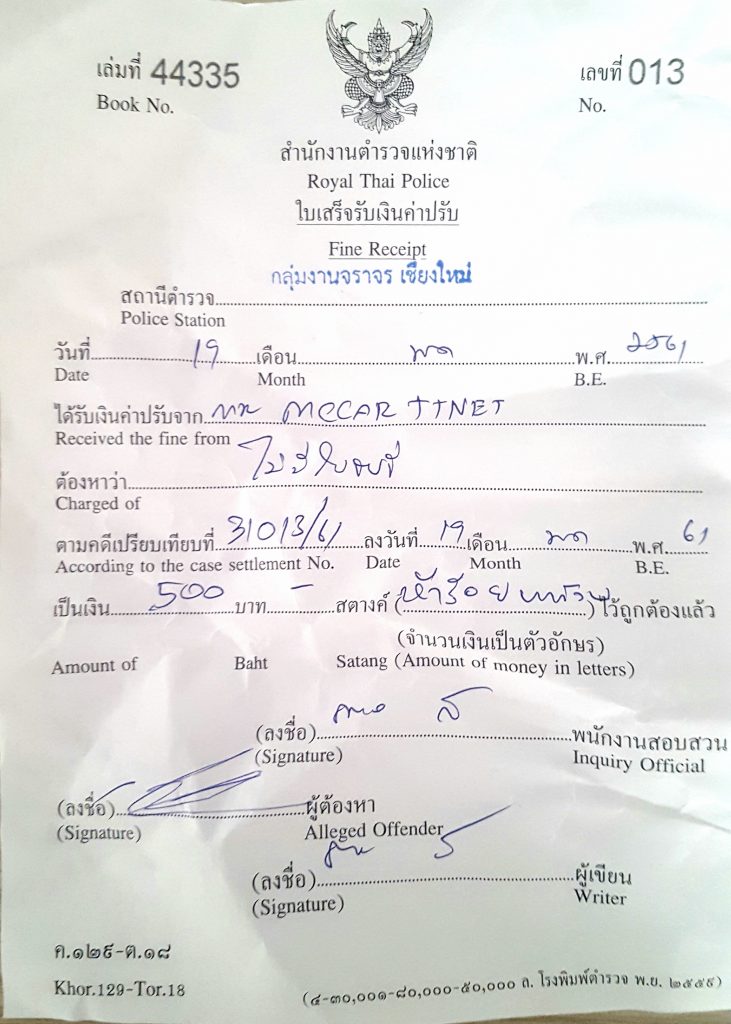 All paid up, we set off to the mountain Temple of Wat Phra That Doi Suthep which overlooks the city. The views from up here were fantastic and it was definitely one of the grandest temples in the area.
We then headed for the Mon Da Than waterfall, hidden among the forests to the north of Chiang Mai. It was an idyllic location and there were barely any other people there. We spent the rest of the afternoon splashing about in our very own private waterfall.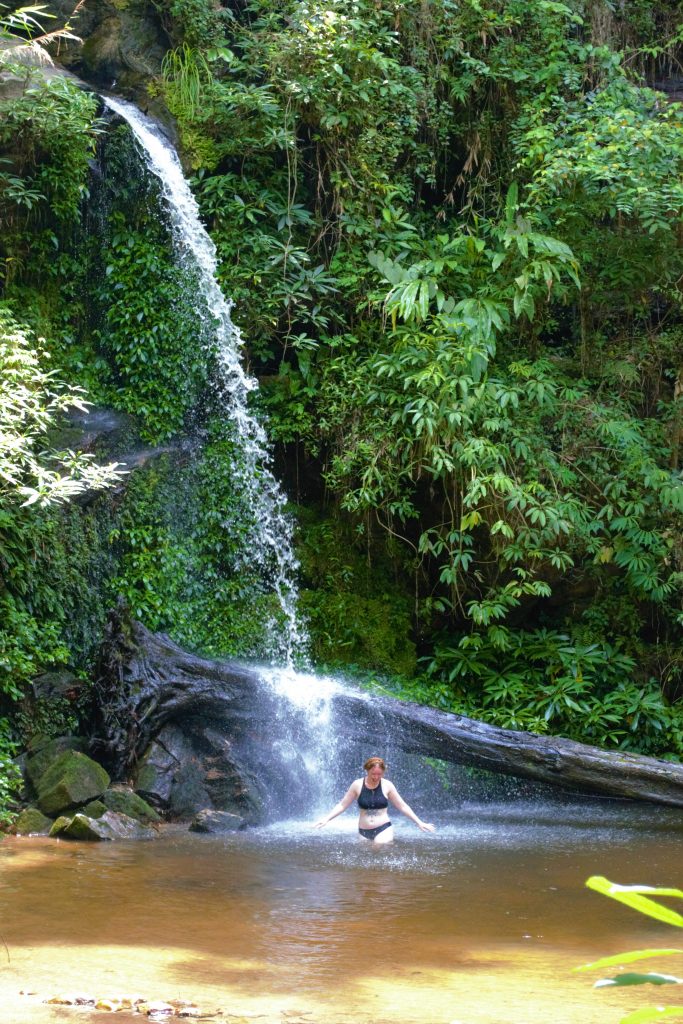 From here, it was just short ride back into town and we quickly made it back to the hostel for an exciting night of bag packing. The next morning we would set off again, this time for northern Thailand and the city of Chiang Rai.
Thanks for reading!