If you need to catch up on our final days in Hungary, you can still do so here.
And so, having taken in all that Hungary had to offer, we set off for the marathon journey to Bled in Slovenia. It's not that Bled is particularly far from Hévíz, it's just that it's amazingly difficult to get to. Hungarians, apparently, really do not want you to leave and if you do leave, they really, really don't want you going to Slovenia.
Our journey to Bled would see us get a lift from Tibor, a bus to Keszthely, a train back to Siófok, a coach to Ljubljana, another train to Lesce Bled and finally, a taxi to our Hostel. After 11 hours, we arrived in darkness and fully ready for bed.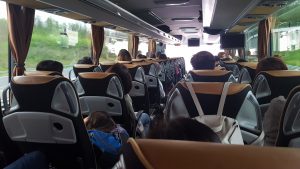 Upon arriving at the Castle Hostel, it was immediately apparent that this had much more of a communal vibe than previous places that we had stayed. We dragged our tired bodies into the lounge and were met by a large group, all seated to have dinner and Casper, henceforth known as Casper the Friendly Host.
Casper was a young Slovenian fellow, who spoke with a thick American accent and a huge excited heap of enthusiasm. He sat us down to give us the lay of the land and inform us of the best places to go. He was incredibly helpful but being hungry and exhausted from a long day of travelling, I don't think we were the best audience. Glazing over at the shear volume of information he was giving us, we nodded along until he had finished his piece and we could get some food and some well deserved rest.
The next morning we awoke with a plan. We would get some breakfast and provisions for the next few days before heading out to circumnavigate the famous Lake Bled.
Fully fuelled and stocked up, we set out. That day and indeed, the entire time we were in Bled, we were mesmerised by the stunning scenery and waters of the lake.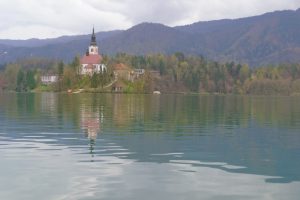 We covered a serious amount of mileage that first day, making it the 6km round the lake as well as up to the two most well known lookout points from which you get a whole new perspective.
The first Ojstrica, is the most visited and offers up the classic view of the lake that you're likely to see on any postcards. It can only be reached via a steep path up into the hills followed by a short scramble up a perilous looking rock face onto a small outcrop looking down onto the lake.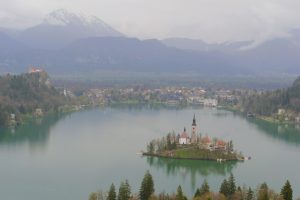 The second, Mala Osojnica, is harder to get to as it's higher and involves more steep pathways but you are more than rewarded for your efforts. The panoramic view of the lake in front of the Julian Alps in the distance is truly breath-taking.
After completing our circuit of the lake we returned to the hostel for the first occurrence of what would become our nightly ritual.
First, we would go over to the communal lounge at 5ish to have a drink before we started preparing our dinner, vowing all the while to be back in the room early so we could rest up, ready for the next day. Around 6 we'd start cooking, during which time we'd start talking to a few of our fellow travellers. Then we'd glance at the clock and realise it was now 00:30, dinner had long ago been eaten and we'd been chatting away and drinking for 6 hours. This happened every night that we were in the Castle Hostel.
In a situation like this, it's the people around you that contribute to the back-packing experience and those that we met in Bled were the best that we could have hoped for.
As has been said previously, we really did spend most of our time here gazing slack-jawed at the lake from one vantage point or another, but there were one or two exceptions.
On the second day we took a walk out to Vintgar Gorge, a vast chasm cut through the earth by millions of years of water erosion. We decided to walk the 4km out to the gorge via the town of Zasip, a small village which was home to possibly the steepest road ever constructed. Our weary legs shook as we reached it's crest, but from there it was just a short walk through forest to the gorge.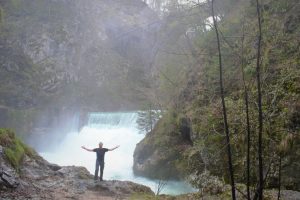 As it was officially shut until mid-May, we had the entire place to ourselves for the couple of hours that we were there. There were parts that we couldn't access due to some rather unfriendly looking gates, but we had a good look around and were even able to have a walk around a few bits that were still under construction.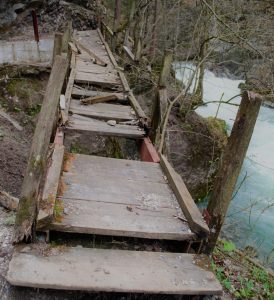 Then, on our final full day we took our obsession with the lake to a new level by hiring a boat and rowing ourselves out to the island in it's centre. It's about a kilometre from the boat hire out to the island and, in this heat, rowing was tough but enjoyable work.
It took us about half an hour to get across and moor up at the islands wooden dock but we were soon walking up the stairs to the church and enjoying a particularly delicious ice-cream.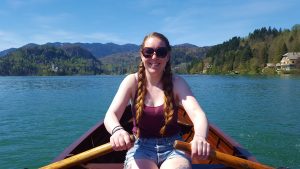 It was at this point that we spotted someone looking very dapper in a very colourful suit standing in a group in front of the church entrance. I suddenly realised that I recognised both him and his high-heeled companion – It was none other than the popular British comedians, Richard Ayoade and Eddie Izzard. They were out here filming an episode of the 'Travelman' TV series and looked far to busy to be disturbed, so we turned amateur paparazzi and took the following secretive photo.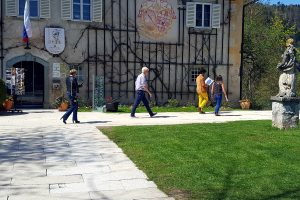 As we rowed ourselves back to Bled, we realised that we had stumbled across them again, this time in their own boat, and were now careering clean across the cameraman's perfect lined up shot. In a failed attempt to get out of the way, we floundered about haplessly between the two and were now actively sabotaging their show with our poor rowing technique.
Mercifully, we eventually managed to get our craft under control and slowly meandered our way back to the boatyard.
That evening we were to get ready for our next journey, onward through the mountainous north-west of Slovenia, to the small town of Tolmin close to the Italian border.
We left the awe-inspiring beauty of Bled begrudgingly but went to bed that night excited as to what our next adventure would bring. And who knows, maybe we'll get to relive our time there when we see ourselves creeping into the background of virtually every shot of Travelman that week.